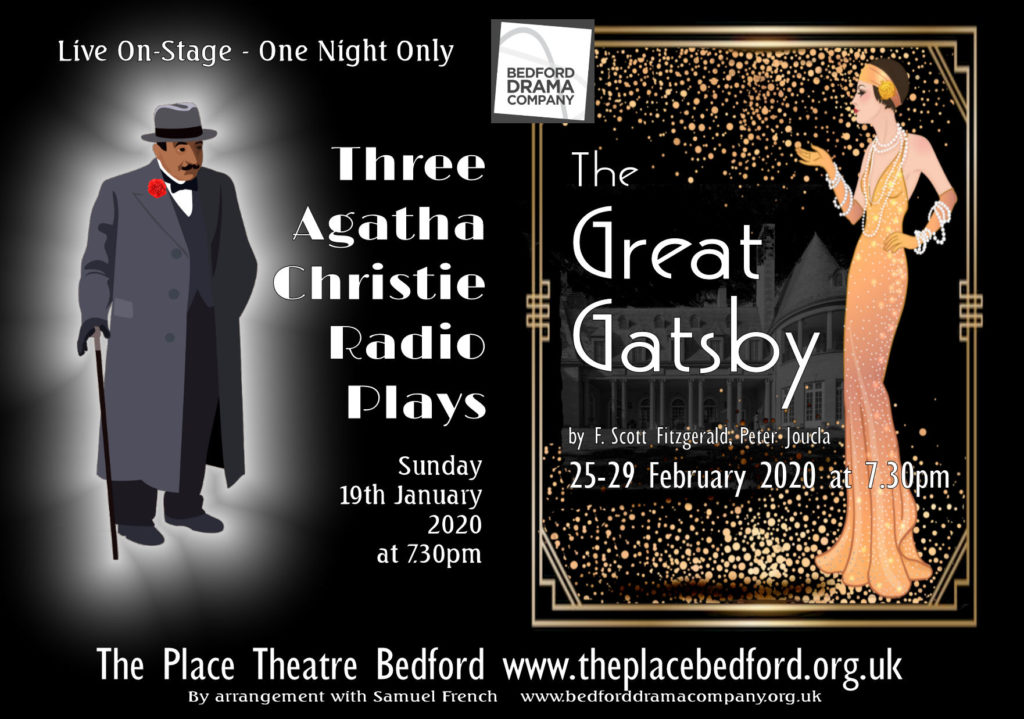 We have some treats for you this season. You may have missed the hilarious Murder in Play but in January we are performing, for one night only, a "recording" of Three Agatha Christie Radio Plays. These will be performed script-in-hand just as if they were being recorded for radio transmission. Sunday January 19th at 7.30pm at The Place.
Our February production will be The Great Gatsby by F. Scott Fitzgerald. Set on prosperous Long Island in the summer of 1922, the story primarily concerns the young and mysterious millionaire Jay Gatsby and his quixotic passion and obsession with the beautiful former debutante Daisy Buchanan.
Considered to be Fitzgerald's magnum opus, The Great Gatsby explores themes of decadence, idealism, resistance to change, social upheaval, and excess, creating a portrait of the Roaring Twenties that has been described as a cautionary tale of the American Dream.
This version was adapted for stage by Peter Joucla and first performed at Wilton's Music Hall. 25th – 29th February 2020 at The Place, Bedford.
Our April 2020 production will be Jane Austen's Emma. Dates are 21st – 25th April.
Our June 2020 production will be A Day in the Death of Joe Egg by Peter Nichols. Provisional dates are 9 – 13 June.